Bethlehem – President of the Red Crescent Society Visits the General Intelligence Headquarters
Bethlehem, 21-2-2018
The head of the Palestinian Red Crescent Society, Dr. Mohammed Rizq, accompanied by the administrative director of the association in Bethlehem, Judith Muammar, visited the Directorate of General Intelligence in Bethlehem on Tuesday, and met with the Director of General Intelligence Salim al-Qaisi, and discussed with him ways to strengthen the relationship between civil society institutions and official institutions and security services .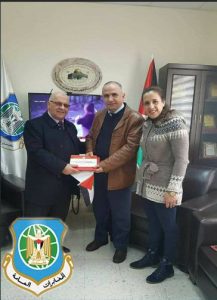 Dr. Rizq thanked the General Intelligence Service, and its minister, Maj. Gen. Majid Faraj, and all the officers and members of the Agency for their efforts in the service of their people. He also Praised the role played by the security services in supporting the Palestinian Red Crescent Society.
Colonel al-Qaisi welcomed the guest delegation and stressed the importance of the role of the Palestinian Red Crescent Society. He also blessed the Association for the first time the membership of the administrative board of the International Crescent and Red Crescent Societies. He also referred to the instructions of Minister Majid Faraj to provide all support to distinguished national role of Red Crescent Society.
At the end of the visit, Dr. Rizq awarded Colonel Qaisi with the flag and shield of the Palestine Red Crescent Society.